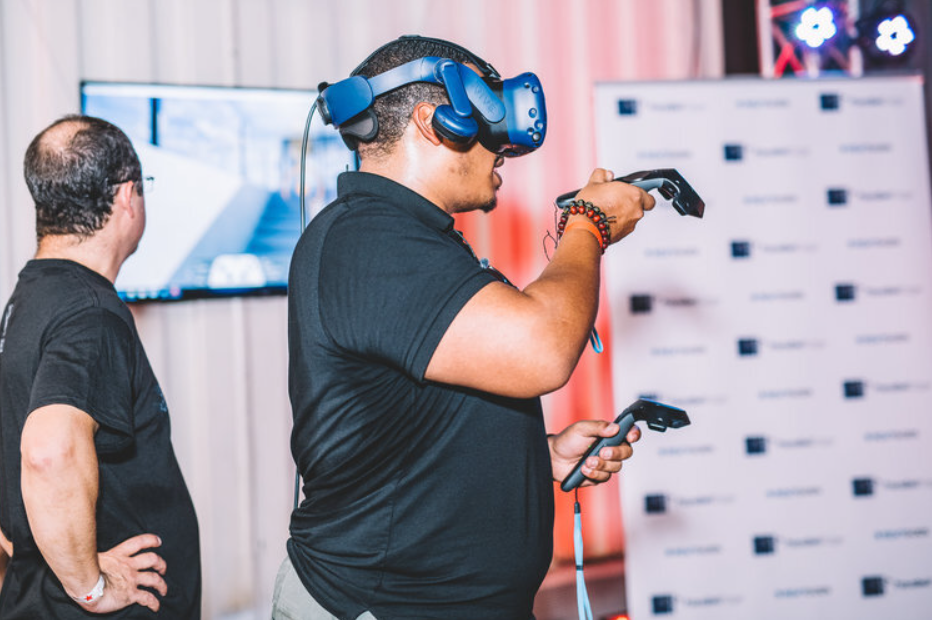 Words by Chesney Davis
Photos by Sarah Naji
RevitGods had the pleasure of participating in the first week of events of DesignPhiladelphia, the annual 10-day festival highlighting the rich design culture in Philadelphia.
We collaborated with Parallel Edge to bring a unique VR demo experience both to the official DesignPhiladelphia Kickoff Party and to the Forum on Architecture + Design, AIA Philadelphia's annual conference and expo. Our partner Parallel Edge sponsored a cool VIP Lounge at the kickoff party at Cherry St. Pier with fun drinks and food, and a beautiful view of the Delaware River.
Attendees who tried out the VR demo toured a model home built in Revit and plugged into the real-time rendering and VR program, Enscape™. To make things fun, the model included seven mistakes for users to search for and pick out. These mistakes, like a car in the pool or a bed on the ceiling, helped demonstrate the benefit of putting your Revit model in VR to easily identify issues and reduce the risk of costly mistakes. Also, for the end user, a VR walkthrough makes all the difference to ensure they're getting the exact features that they want. If you would like to know more about how to go from a Revit model to VR rendering, contact us!
About Parallel Edge Inc: Parallel Edge provides IT support company, specializing in servicing firms in the Architecture, Engineering, and Construction industry. To learn more, visit www.paralleledge.com.